Thought I'd let you know about this new release – special recommendation from someone at Brane-Power – pretty interesting stuff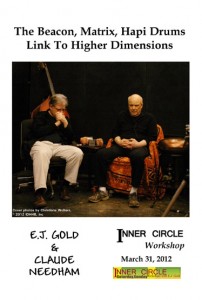 The Beacon, Matrix, Hapi Drums – Link To Higher Dimensions
ICW 3/31/12
with E.J. Gold & Claude Needham
DVD 282
2-DVD set, $29.95 (SRP)
This two-hour Inner Circle Workshop with E.J. Gold and Claude Needham wove through and expanded upon many essential points from the wide range of linking to the higher dimensions to implications of how to prepare,
practically, for and work in the awakened state.
Disc 1
· Difference between singing bowls and Hapi drums
· E.J. Gold's message about prayer
· Chimeology — real knowledge from the 6th – 13th centuries — was
contained within
the seeds of the Pythagorean School underlying Sufic teaching
· Physics behind certain sounds can be heard in other dimensions
· The appropriate approach to and instructions for invoking an angel
· Relationship of the Beacon, Matrix and Amulets to link to Higher
Dimensions
· Proposed Angelic Calling app
· Slipstream from universe to universe
Disc 2
· Get into communication
· Public Domain isn't necessarily royalty free
· Gird for success — story about waking up
· Essential secrets of street busking
· Getting in the Work is easy, staying is hard
· The awareness of being in a group and what that means
· Spooky Action at a Distance (SAAAD) within the Einsteinian Universe model
· Hapi drums have quantum effects — the UFO cuts through space and time
· Think of slipping one universe on as if putting on an article of clothing
· The real secret of Astral Projection
Excerpts from the ICW:
"Think of the matrix as a router to a spiritual internet. That might help
you understand what it is. Or through a spiritual internet to stations
which are planted in a variety of universes not all of which , hardly any
of which, are in this universe.
This universe had 3 local stations as opposed to some that will have
thousands of stations.
What a station is, is a place of gathering where millions or billions of
entities can gather . . . or three or four . . .
Think of the universe as a string of characters, actually a string of
values but let's call them characters . . . that are shaded from incident
to value. This string of characters expresses a multiplicity of universes,
one of which is the universe in which you happen to be currently.
It depends on the strength and the scale of the gathering. The
megalocosmos is a composite of all universes that exist. You can not
composite it. Neither time nor space apply to the universe outside this
universe..
The same moment doesn't mean time frame, actually it is an event. Event
related rather than a time related calculation.
There is no evolution only adaptation. Evolution is not necessary. Natural
selection is necessary, yes and adaptation is necessary."