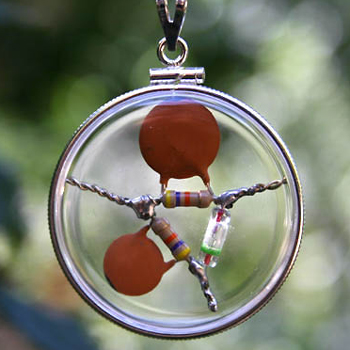 The El Brujo is an amulet originally made specifically for shamanic use. It has since then been used by many others. This just came into yoyodyne today from someone in Eastern Europe, a theta Healer:
"Hi!
El Brujo came today. I am wearing it for hour, it is awesome! when I grab him, I sense the energy and relaxing flow through my body Also tried some Theta healing with it, man this really works!
Thank you a lot…"
El Brujo Amulet
Initially E.J. Gold made this Amulet especially for Koyote and shamanic use and voyaging
El Brujo Beta Blocker CQR – Crystal Quantum Radio™ Amulet, set in .925 Sterling Silver, coin-edged half-dollar-size bezel.
Price: $125
Third eye buzz with the El Brujo
Super-powerful Shamanic amulet.
Listed attributes for this amulet include:
Alchemy, Astral projection, Aura enhancement, Awakening, Beta-Blocker, Charisma, Communication, Compassion, Consciousness, Creativity, Death, Discipline, Dowsing, Dreaming, Dream walking, Dreamcatcher, Dying, Empowerment, Energetic, Energize, Enhancement, Enlightenment, Esoteric, Essence, God is one, Grace of God, Gratitude, Guardian, Guide, Habits, Healer, Higher consciousness, Higher intelligence, Higher power, Higher self, Humble, Illusion, Infinite space, Inner radiance, Integrity, Intention, Magic, Magical, Mana, Manifesting, Mediumship, Metaphysical, Native spirits, Overcoming fear, Parallel universe persona, Parallel worlds, Paranormal activity, Past life recall, Patience, Peace, Perseverance, Prayer Absolute, Premonition, Presence, Protection, Pure love, Psychic, Psychic Self-defense, Real will, Real Work, Right action, Rite of Passage, Self-discipline, Self-remembering, Sensitivity, Sentient Beings, Shapeshifting, Sleep, Soul retrieval, Spirit, Spiritual, Spontaneity, Strength, Tantric, The Absolute, The Way, The Work, Theta enhancement, Transcend, Transformation, Truth, Tuner, UFO, Universal, Visioning, Visualizing, Vitality, Voyaging, Way of service, Wellness, Will, Wisdom, Work on self.