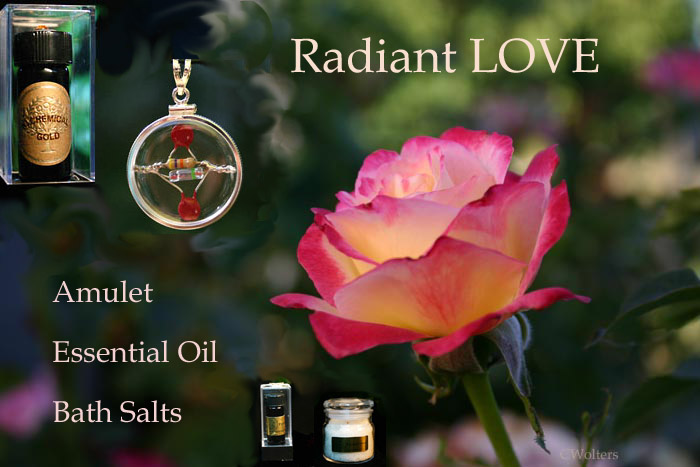 I love the fragrance of roses – LOVE it. Scents, aromatics, incenses and essential oils do influence your auric field, your subtle energies and your brain  and I like the effect of rose fragrance. It is delightful, uplifting, joyful, euphoric – simply wonderful.  Roses are not a symbol for Love for no reason.
In any case, just for fun and play and sheer beauty of the rose, a symbol of love, here is an image for your delight: a luminescent rose, the beautiful Love Amulet and divinely fragrant Love essential oils and bath salts. A wonderful gift.
Click on the image to get to the yoyodyne Love Amulet page.
But the question of Love is much much deeper.
At the end of your life, one of the questions might be: how well did you love? Did you love? Do you wish for deeper love in your life now? Love really does not need a special occasion. Do it now, give it now, allow it now!
In fact,
a Love Amulet
and the Loving Essential Oil
would make a fabulous CHRISTMAS gift. Everyone has a friend, a sister, a mother, a daughter,  a beloved – and that includes YOUR own SELF. I am voting for a special deal! 🙂 I betcha you can get one……2 days later: voila
Love Power Amulet plus Loving Oil
Special Offer Sales Price

: $99.97
To tap into your capacity for real love.
Love for those you love every day – this is a great gift. A Crystal Quantum Radio amulet which can be worn anytime and the divinely transportative scent of "Loving" oil, an exquisite blend that incorporates the calming influence of patchouli and sandalwood with the classic heart opening effect of roses.

Loving – Essential Oil – regular price $35.00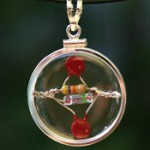 Love Power Amulet  – regular price $125.00
Here is Brane-Power on the Love Amulet:
The Love Power amulet to tap into your capacity for real love. As the name suggests, this amulet is intended to bring love into your life, whether it be generally with all you encounter, in relationships or through tantra, down into your body or in subtle deep feelings. It facilitates heart opening and all that that entails. Increases love, compassion, empathy, connection to the divine love, radiant inner beauty.
It is also very good for healers. It has been described as subtle, strong and supportive.
"I feel that the Love Amulet has actually opened my heart." — C.G., Montreal
We asked Lorraine, one of our distributors in Vancouver, Canada, how it is that she sells so many Love Power Amulets. Her response was, "People want more love in their life…the customer said that she felt that she was back in her heart centre and feeling like her true self, felt as though she had an energy around her that blocked out the other stuff." — Lorraine, Vancouver, BC
"Believe it or not, the day after I got my Love Amulet, I met my soulmate." — J.J., Woodstock, NY
Please keep in mind that we cannot list all attributes and effects that can possibly happen as a result of this kind of opening. Contact us at 530-271-2239 or yoyodyneindustries.com if you need any help choosing the best amulet for you at this time, we'll be happy to assist you.