Quantum Crystal Radio Amulets can be included in special custom necklace pieces, on bracelets, earrings and in rings. This really is a unique opportunity for combining the power of the CQR amulets with the inherent attributed in stones.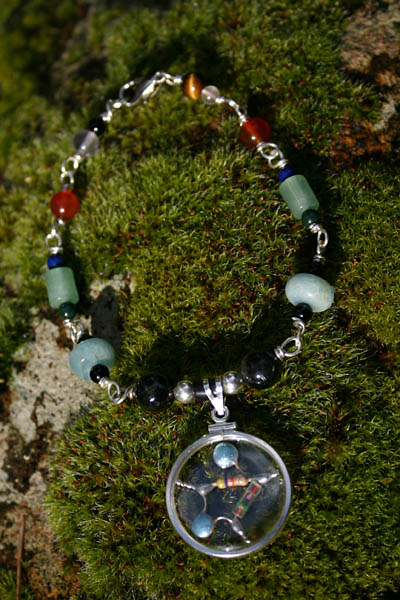 Here is  sample of a custom CQR – bracelet. The type of stones in a necklace or bracelet contribute to the overall energetic effect. The  amulet on the bracelet or necklace will work with the chosen stones.  This could make for some very interesting effects,  for example the combination of  a protector stone obsidian or black tourmaline with one of the protector amulets in a necklace – or a Love Power amulet – wow – safe to love….the combinations are almost endless.  Here are some samples of custom CQR necklaces.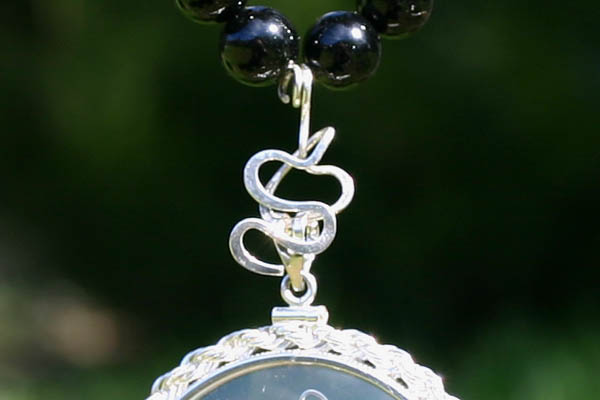 Note this new type of silver hanger for necklaces – a design obtained during a parallel  world excursion – a true Brane-Power special. A small piece of art in itself, it allows for removing the amulet for cleaning,  or changing it for another one, without having to take the necklace apart.  Our necklaces are custom made by Denise Wey with the beads you specify and the amulet you have chosen. We can help you choose the kinds of beads compatible with your intention and energy. Claude Needham hand-crafts the special  silver hanger and the hammered silver inserts.